Peter Stang
Class of 2013-14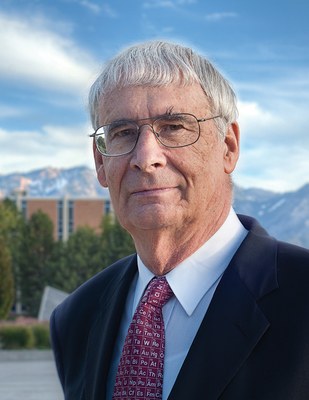 University of Utah
National Academy of Sciences
American Academy of Arts and Sciences
National Medal of Science
Working with chemical systems built from molecular components, Peter J. Stang has advanced organic chemistry for five decades. In essence, Stang and his team are molecular architects who rearrange the building blocks of chemistry to create new and better products to serve advanced medicine, information storage, and energy.
In recognition of his achievements as a pioneer in supramolecular chemistry, Stang received the National Medal of Science in 2011, followed by the American Chemical Society's (ACS) 2013 Priestley Medal.
Stang earned his doctorate in 1966 from the University of California, Berkeley, and subsequently joined Princeton University as a National Institute of Health Postdoctoral Fellow.
Stang joined the University of Utah in 1969. During his forty-three years at the University, he rose from assistant professor to dean of the College of Science. Today, he is a Distinguished Professor of Chemistry at The University of Utah.
His major scientific contributions began in the late 1960s with his synthesis of vinyl trifluoromethanesulfonates, which are used to join two completely different hydrocarbons and thus create a chemical reaction. In the 1990s, his synthesis of molecular squares led to the development of several functional, self-assembled chemical systems.
Most notably, Stang's method of preparing cyclic structures containing metal-complex units—known as the directional bonding approach—has enabled his team to synthesize elaborate molecules such as tetrahedral frameworks, trigonal prisms and cage-like metallocyclic dodecahedrons. This allows the construction of an intricate molecular framework, ultimately leading to the rapid assembly of nanoscale molecular devices for broad-based, practical applications.
Stang is a member of the American Academy of Arts & Sciences, the National Academy of Sciences, the Chinese Academy of Sciences, and the Hungarian Academy of Sciences. He received the Fred Basolo Medal for Outstanding Research in Inorganic Chemistry in 2009, the Paul G. Gassman Distinguished Service Award of the American Chemical Society's Division of Organic Chemistry, and the F.A. Cotton Medal for Excellence in Chemical Research, in 2010.
His research has garnered several other awards from the American Chemical Society, including the ACS Award for Creative Research and Applications of Iodine Chemistry, and the ACS George A. Olah Award in Hydrocarbon or Petroleum Chemistry, the ACS James Flack Norris Award in Physical Organic Chemistry, and the Linus Pauling Medal.
He has more than 500 publications and more than 23,500 citations to his credit and has mentored nearly 100 graduate students and postdoctoral fellows.
Stang has been an editor of The Journal of the American Chemical Society since 2002 and is a former editor of The Journal of Organic Chemistry. For five years, he belonged to the board of the American Association for the Advancement of Science.
While serving as a TIAS Faculty Fellow, Stang will collaborate with faculty in the College of Science's Department of Chemistry.
For more updated information:
https://chem.utah.edu/directory/stang.php
Students
Kelly Servage – 2013-14