John L. Junkins Bio
John L. Junkins, University Distinguished Professor of Aerospace Engineering and holder of the Royce E. Wisenbaker Chair in Innovation in Texas A&M University's College of Engineering, is the Founding Director of the Hagler Institute for Advanced Study. Junkins led an effort to bring together the faculty and administration to launch the Institute in 2011. The Texas A&M Institute for Advanced Study was officially renamed the Hagler Institute for Advanced Study in 2017 after long-time A&M benefactor Jon Hagler endowed the Institute with a $20 million gift. Starting in 2011, Junkins and Norman Augustine created the External Advisory Board that has been instrumental in the rapid early evolution of the Hagler Institute for Advanced Study.
While an undergraduate at Auburn University, Junkins began his career at the age of 19 as a co-op student during the Apollo program at the National Aeronautics and Space Administration in Huntsville, Alabama. He then time-shared graduate study at UCLA with full-time employment at McDonnell-Douglas, where he supported numerous launches of satellites aboard Delta rockets. Following previous academic appointments at the University of Virginia and Virginia Polytechnic Institute, he joined the Texas A&M University faculty in 1985 as the first endowed chair holder in the College of Engineering. His expertise spans basic and applied research. He performs theoretical studies, computations, experiments, design, and supports space flight implementations.
Junkins recently graduated his 58th PhD student and has spawned two generations of professors and three generations of over 160 PhD graduates who play significant roles in aerospace engineering. His technical descendants are an important national resource. He remains an active professor, principle investigator and prolific scholar. Currently he directs six doctoral candidates and a post-doctoral researcher. The breadth of his interests and scholarship is evident in the following distribution of his publications, by field (from webofknowledge.com):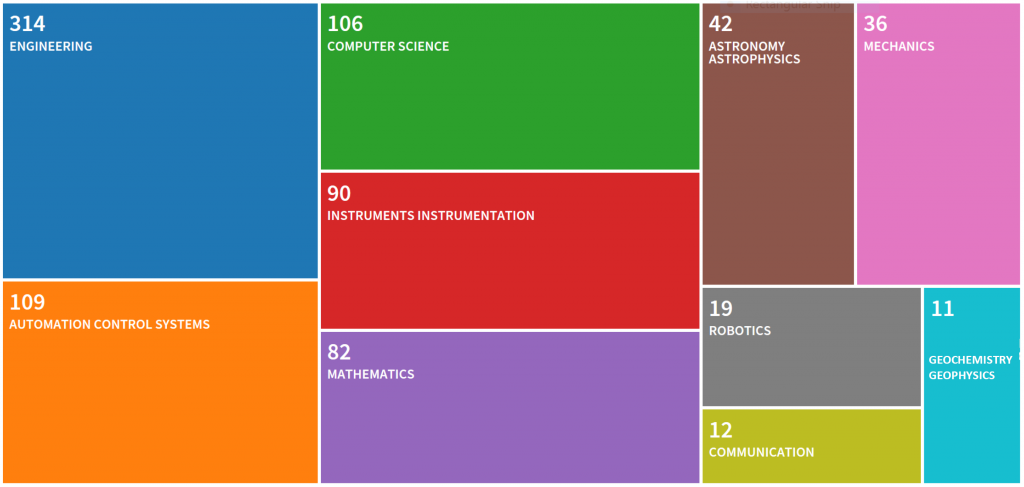 He is a member of the National Academy of Engineering, the National Academy of Inventors, the International Academy of Astronautics, and he is an Honorary Fellow of the American Institute for Aeronautics and Astronautics (AIAA). Junkins is the author of over four-hundred papers and seven widely used technical books. His co-authored Analytical Mechanics of Aerospace Systems text won the 2014 Martin Summerfield Best Book Award, given annually by AIAA. He has received more than a dozen international honors for his research, including the highest honor in his field, the Robert H. Goddard Astronautics Award (2019). He has patented and commercialized several inventions.

Junkins has served as principal investigator on more than one hundred externally funded research projects, attracting over $60 million of grant and contract support from government and industry. Junkins consults with industry and government. His research results have been transitioned to support over a dozen space missions. He continues to share his time as a teacher, mentor, scholar, and researcher with impactful University leadership service. He served as interim president of Texas A&M University during Spring 2021; served on the search committee leading to selection of University President M. Katherine Banks in June 2021; chaired the presidential search committee that led to selection of Robert Gates as University president in 2003; and participates frequently in national service such as chairing several studies while serving on the Air Force Scientific Advisory Board. During Junkins' term as interim president, the Board of Regents of The Texas A&M University System adopted Junkins' $25 million proposal to create scholarships for first generation students with financial needs and to design a novel historical garden in the Academic Plaza that captures the most impactful leadership contributions in the history of Texas A&M. Under his leadership, the Hagler Institute has attracted over one hundred internationally eminent scholars to Texas A&M and over $45 million of endowment and gift commitments to permanently secure the Hagler Institute.